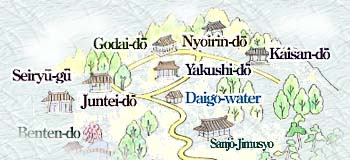 ©Please click the Area you want to view©
---
After 40 minute walk from Shimo-Daigo area via Nyonin-hall on the mountain road, you come to Kami-Daigo area. Here is the very place where Daigoji-temple began.
In the present Kami-Daigo area, you can see Juntei Hall (A hall dedicated to Juntei-Kannon) which is the eleventh point of the pilgrimage of Western Japan, Godai Hall or Fudo Hall, Yakushi Hall (A Hall dedicated to the Yakushi Nyorai or Tathagata Bhaisajya-guru), Kaisan Hall(A Memorial Hall of the establishment of Daigoji), Nyoirin Hall (A Hall dedicated to Nyoirin Kannon), Seiryugu Haiden (Praying Hall). Most of buildings themselves are natinal treasures or important cultural properties.
The Juntei Hall was originally built in 866. But the present building was reconstructed in 1968. The statue of Juntei Kannon to which the hall is dedicated is usually kept secret. On 18th of May every year, however, the service ceremony called Gokaihi (Opening Door ) is held and the statue is opened to public for three days.
The Godai Hall is dedicated to Godai myo'o in which Fudo myo'o is a central figure. "Godairiki-san" is not only the nickname of these five figures but also the name of an event in connection to this hall. In the "Godairiki-san" event on 23rd of Feburary amulets called "Omie" are distributed to lay people at the Golden Hall in the Shimo-Daigo area. Actually these amulets were authorized by means of prayer at the Godai Hall for a week.
---
Remarks
¤
National Treasures
¡
Important Cultural Propeties